Troy Aikman is a renowned player on an American football team. He played for 12 seasons as the Dallas Cowboys quarterback. In addition, the celebrity athlete headed the Dallas Cowboys to three wins in the Super Bowl.
His athleticism and his romantic relationships both made him famous. Through the years, he has been romantically linked to several women. His list of ex-girlfriends included a few renowned celebrities. The Texas Monthly magazine hailed him as the most eligible bachelor during the peak of his football career.
Rhonda Worthey
Rhonda Worthey is the first wife of Troy Aikman. She was the publicist of Troy's team, The Dallas Cowboys. Rhonda was pretty unknown at that time since she primarily worked from the sidelines. However, she became known to the public when she began dating Troy Aikman.
The couple started going out on dates in 1998, and it lasted for 18 months. Before meeting Rhonda, the famous quarterback previously dated Lorrie Morgan, the singer. Eventually, Troy asked Rhonda to be his wife. And she said "Yes" as expected. Their families and their many friends in the business attended their lavish wedding. The media widely covered it at that time.
Rhonda had a daughter from her past relationship, but after their wedding, Troy adopted her. On August 24, 2001, Rhonda gave birth to their first daughter and named her Jordan Ashley. The following year on July 30, 2002, their second daughter entered this world, and they named her Alexa Marie. The Aikman family settled in Dallas, Texas, and lived a happy life.
However, their happy family life came to an abrupt halt on January 25, 2011, as the couple announced that they would be separating. Their 11-year marriage was officially dissolved on April 21, 2011. The couple never revealed why they decided to end their union.
A couple of months after their divorce became official, Troy and Brenda divided their assets. She received a settlement amounting to $1.5 million and another $1.7 million for child support. Troy's ex-wife also got full custody of their daughters.
Catherine "Capa" Mooty
At 54 years old, Troy Aikman got another chance at love. He met Capa Mooty, a single mother of two, in 2016. Her sons were already in high school when they began dating. The father of Capa's kids is Jerry Mooty, a lawyer and the nephew of Jerry Jones, the owner of Dallas Cowboys. Capa is the proprietor of a high-end clothing store.
Troy and Capa dated for a year before he finally popped the question in 2017. They were on a romantic getaway in Lake Como, Italy, when Troy dropped on one knee and asked Capa to be his wife. Their wedding ceremony took place after three months in Santa Barbara, California. The ceremony was a small and intimate one, which was the exact opposite of Troy's first wedding.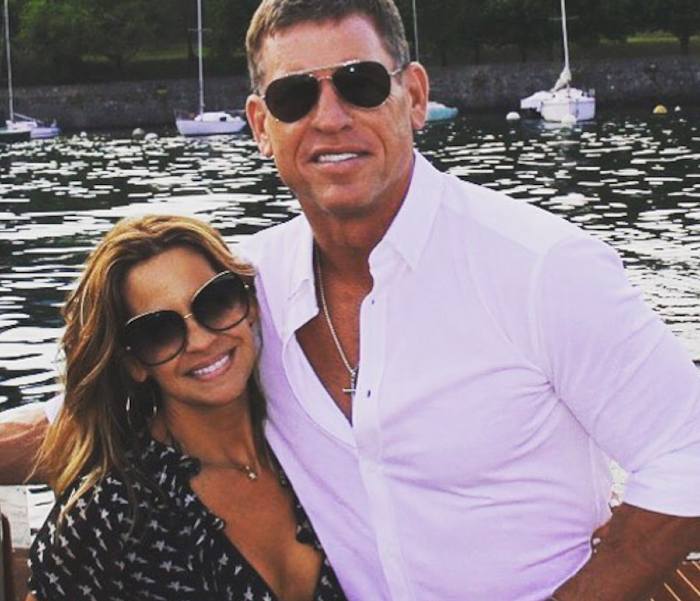 Troy Aikman Dated Sandra Bullock?
It has been rumored that Troy dated the famous actress Sandra Bullock in the 90s. This was even before he met his ex-girlfriend Lorrie Morgan. They dated briefly, but they eventually split. Their long-distance romance did not work out. The two found it difficult to find the time to be together because they lived in separate states. Additionally, their careers were their main priority at that time.
After their short-lived romance, Sandra Bullock went on and married Jesse James. Troy also married his first wife a few years after they split. However, both of their marriages ended in divorce, and they once found themselves single once again. In 2014, rumors began circulating that Troy was dating his ex-girlfriend Sandra Bullock. They reportedly got back in touch through the encouragement of their friends. There have been photos of them together but they never admitted their romance to their fans.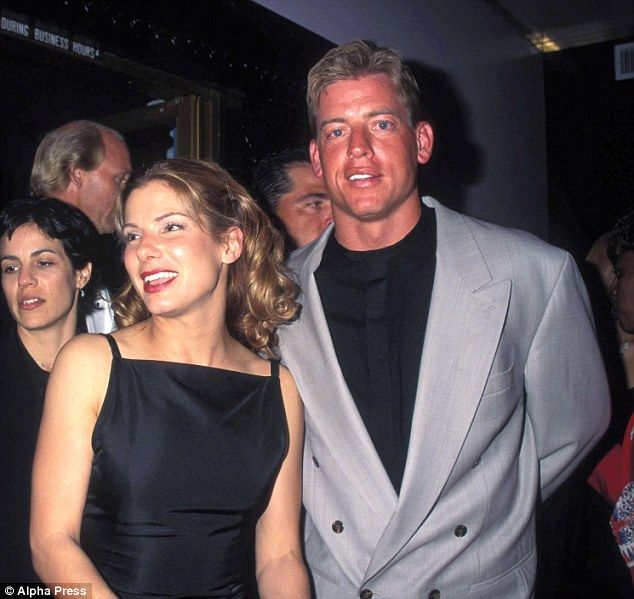 Is Troy Aikman Married?
Troy Aikman is still happily married to his wife, Capa Mooty. They are enjoying their fourth year of wedded bliss with their four kids in Dallas. Troy has a loving relationship with his stepsons. He even coached his stepson's football team back when he was in high school. The Aikman family of six spends a lot of quality time doing exciting outdoor activities. They also love going on family vacations to different parts of the world.