Mark Edward Fischbach is a famous internet personality known for his YouTube and Twitch channels. His YouTube channel named Markiplier currently holds over 16 billion total views only from his gaming and comedy skits content.
Before all the fame, Markipiler came from a low-income family but was able to reach stardom. Therefore, Mark's fans see him as a motivational influencer quite often as he could turn around his life.
On June 28, 1989, Mark was born and was a native of Hawaii who completed his education at Milford High School.
Starting his Youtube venture in April 2012, Markiplier's channel came into the limelight after two years when he reached 10 million followers. Currently, with over 29.5 million subscribers on YouTube, Markiplier is on the verge of being one of the famous YouTube celebrities of all time. Some may also recognize this YouTube sensation for owning a clothing business.
Regardless, fans who followed Mark throughout his life are aware that he has a girlfriend that often appears in his YouTube videos. Seeing this girl in his videos only makes the fans wonder what's next in their relationship. After completing years of commitment with his girlfriend, Mark's marital status has been a hot topic recently.
Is Markiplier Married?
For years there has been speculation whether the beloved YouTuber Markiplier has married someone. After the announcement of famous YouTube couples' marriage, that is PewDiePie and Marzia's, some fans urge Mark to do the same. However, this funny YouTuber seems to be patient regarding his decision.
This does not mean that Mark does not have a date. As of 2021, Mark is still sticking around with Amy Nelson, his girlfriend. But Mark and Amy are waiting for the right moment to reveal their wedding plans, much like they did when they announced their relationship.
However, Mark is yet to pop the question to Amy. On September 30, the Markipiler couple celebrated their five-year-long journey as boyfriend and girlfriend. This proves that Mark and Amy are still waiting to marry one another. Nonetheless, Mark is living with Amy, and the two seem to build a healthy relationship.
When Did Mark Meet Amy?
There is no confirmation of when Amy and Mark crossed paths for the first time. However, multiple sources reveal that the 32-year-old YouTuber and Amy began dating in 2015.
Fans weren't aware of this until Mark and Amy began appearing together on numerous occasions. However, one memorable instance when Amy and Mark came to the public's eye was during a VidCon event held in 2016.
Mark was never the one to reveal his personal life in much detail. So, Mark's fans took curiosity in knowing more about Amy themselves. Moreover, it was Amy who broke the news of their relationship. To the people's ease, Amy posted a picture of her and Mark on Twitter. The caption read:
oh jeez.
If that did not make any sense, Amy also replied to the same tweet by asking the fans what more they wanted from them.
Since then, it was clear that Mark was dating Amy. Moreover, Mark is a lucky man who found an equally funny yet cohesive girlfriend.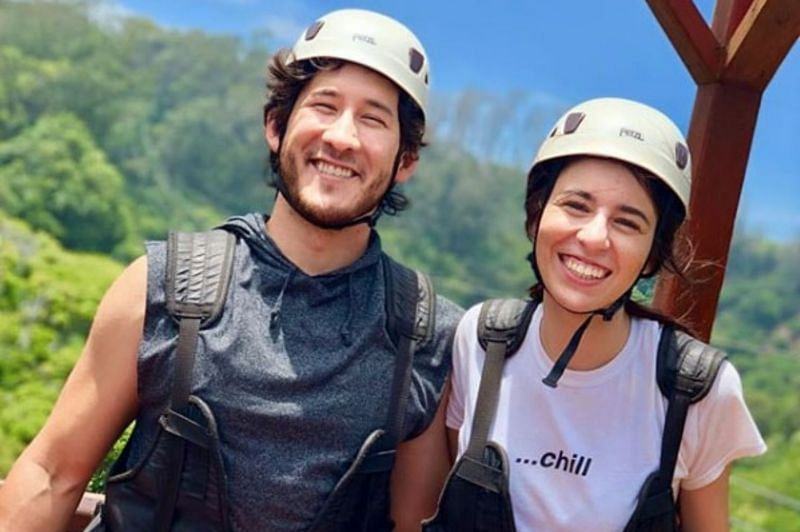 Who is Amy Nelson?
Amy Nelson, also known as Peebles, no longer became a regular girl ever since linking up with Mark. Currently, Amy has 235.4k followers on Twitter. After digging up information on this pretty woman, we came to know that Amy is originally from Ohio. Likewise, Amy is an artistic woman who does clay making and ceramic arts. However, Amy also has skills in animating and graphic designing.
Many might already know that Amy is a full supporter of her boyfriend. Besides doing her profession, Amy also appears in her boyfriend's videos and brings new content to the table. The first time Amy appeared on Mark's channel was in the video "DON'T LAUGH CHALLENGE #5".
More often than not, Amy works behind the camera for Markiplier's videos to adjust lights, sounds, etc. Once in a while, Amy also makes cameo appearances in Markiplier's Twitch and showcases her playmaking talent.
Aside from appearing on her boyfriend's channel, Amy also has her YouTube channel named Planet Peebles, which has over 68k subscribers. However, Amy's YouTube channel is no longer active, neither is she available on Twitch.