Vanna White is most known for her time as the hostess of the syndicated American game show Wheels of Fortune. Despite her successful professional life, Vanna's love life has been anything but. However, she has a steady boyfriend nowadays and is very much in love.
In this article, we look at Vanna White's relationship history.
Vanna White's Marriage with Former Spouse George Santo Pietro
Vanna White married celebrity chef and restaurateur George Santo Pietro on December 31, 1990. The couple first met in 1985 when Vanna was out with friends in California. As fate would have it, they ran into George Santopietro, who happened to be her friend's ex-boyfriend.
At the time, Vanna was dating John Gibson. However, after Gibson's untimely death, Vanna reconnected with George. Not long after, the pair took their relationship to the next level.
Vanna and George tried for a baby in late 1992, but Vanna miscarried. However, despite having miscarried, Vanna was able to conceive for a second time. She and George's son, Niko Santo Pietro, was born on June 10, 1994. Their second child, daughter Gigi Santo Pietro, was born in 1997.
However, their fairy tale romance was not to be as they divorced on May 15, 2002.
Who is George Santo Pietro? And What is He Doing Now?
George Santopietro owned and operated Santopietro's, a classic Italian restaurant in the affluent Bel-Air neighborhood of California. The swanky joint was host to some of Hollywood's biggest celebrities in the eighties. Subsequently, George opened a sushi joint called Sushi-Ko, which similarly pulled in some A-list Hollywood celebrities.
Through his A-List clientele, Santopietro was able to book acting roles in the 1985 movie Prizzi's Honor and the TV show The New Mike Hammer.
Unfortunately, both of his once-eminent restaurants have closed their doors for good. Since then, Santopietro has led a quiet life. He did get married for the third time to TV presenter Melissa Mascari in 2005. Furthermore, they have a daughter named Chiara Santo Pietro.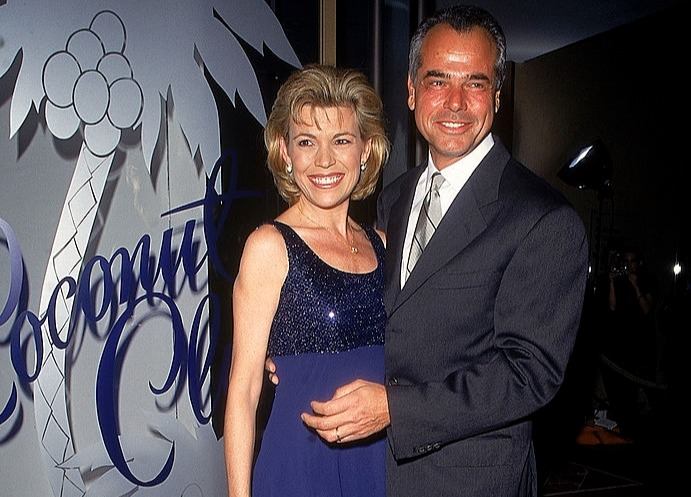 Is Vanna White Married Now?
Vanna White dated model/actor John Gibson in the eighties. They were engaged and had plans to be married when tragedy struck. Gibson was one of six people who perished in a plane crash near the Van Nuys Airport in 1986.
After divorcing George Santo Pietro in 2002, White dated Michael Kaye, a businessman from California. Their relationship spanned two years, from 2004 to 2006, during which the couple got engaged. However, they called off their engagement and never married.
Currently, Vanna White is dating the contractor and business owner John Donaldson. Donaldson is a California-based contractor and heads the JDC Construction and Development Group. The Chatsworth, CA-based company deals in construction and property renovation. He founded the company in 1992 and currently serves as its president.
Vanna and John first met in 2012 through mutual friends. They hit it off quickly and are going strong to this day. Despite this, they have not taken that next step into their relationship. Hence, Vanna remains unmarried as of this writing.