Not many can achieve what Michael Strahan has achieved in his life. Michael Anthony Strahan is a talented and famous American Television celebrity. Furthermore, Michael was also a former athlete who had a great run in his professional football career. Joining his alma matter's football team at Texas Southern University to New York Giants, Michael's dominance in games left a great impression on scouts and coaches.
After winning major trophies and tournaments for 15 years, Michael retired and shifted to the television side of sports. Now, Michael Strahan is a media personality who works actively as a professional football analyst.
Born on November 21, 1971, this Texas native has changed his athlete career into a high media profile. Thus, it shows how talented Michael Strahan is.
Although Michael may stand out from many for making a great career, his personal life says a whole other story. It is no secret that Michael is having a hard time staying loyal to one partner. It seems that he holds a theatrical track record regarding failed marriages since he holds a series of divorces in his life. Thus, Michael might not be in a peaceful mind outside of TV.
Michael Strahan First Wife Wanda Hutchins
Michael Strahan's first marriage was with his first love, Wanda Hutchins. Similarly, Wanda and Michael became a couple for almost four years. During their married life, Michael had a daughter and a son. The daughter's name is Tanita Strahan, 29, whereas the son's name is Michael Anthony Strahan Junior, 26.
Outside of fame as a media star's ex-wife, Wanda is a businesswoman. Furthermore, she currently owns Wanda Home Designs and is also a decorator. Previously, Wanda was a vice president of a nonprofit organization of furnishings, home appliances, etc.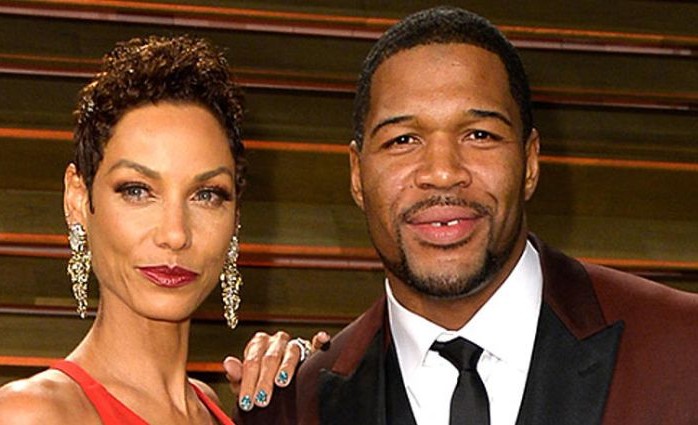 How Did They Meet?
Michael and Wanda first met each other during a 1990 European football match in Germany. During that time, Michael was getting an education from Mannheim Christian Academy. Back then, the ex-couple had a long-distance relationship.
Married Life and Divorce
A year later their meeting, Wanda announced her pregnancy. Shortly after, Wanda gave birth to her and Michael's first child. After this incident, Wanda and Michael officially became a married couple. Michael wedded Wanda in 1992.
Sadly, Michael and Wanda's decision to split up came in 1996. Wanda revealed the decision to separate with Michael was their young age. Wanda was only 22 when she married and had children with Michael. The former Strahan couple parted ways in mutual agreement.
Later, Wanda returned to Germany with her two children. Therefore, Michael and his children's distance grew larger. Although they decided to have a divorce, Michael still acts as a responsible father. Furthermore, he donated a massive amount of money to Wanda to help raise her children. So, it goes to say that the Strahan couples' ending was not ugly.
Their divorce aftermath was a quiet one, and not much information was available until Michael's second divorce. Similarly, Wanda has now kept her life very private from the media. But she is active in her current business and seems to be living a peaceful life.
Michael Strahan Second Wife, Jean Muggli
Michael found his second woman after three years of his first divorce. Her name is Jean Muggli.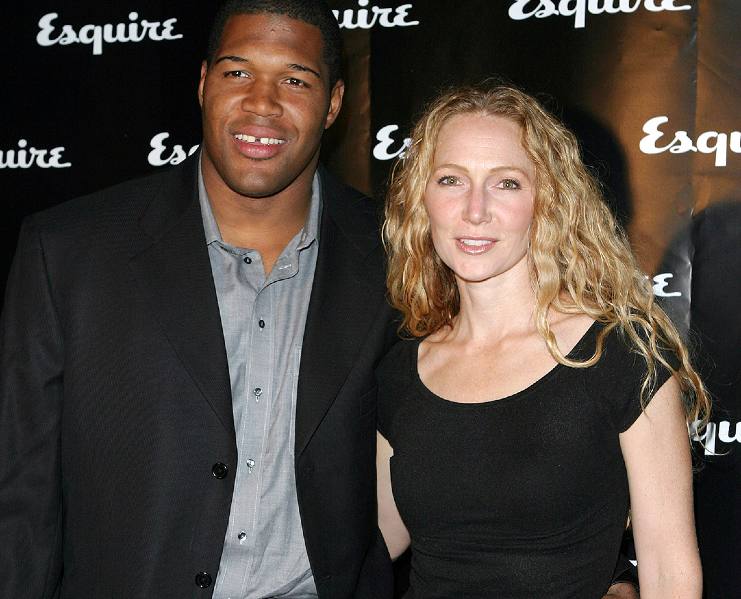 How Did They Meet?
Michael and Muggli had their first encounter at a spa house located in Manhattan, U.S. Michael was a professional footballer, whereas Jean worked at a skincare salon.
Jean has initially been a cosmetic store manager but quickly gained popularity after marrying former football player Michael Strahan. After dating each other for a short amount of time, Michael and Muggli quickly decided to tie the knot. In July of 1999, Michael and Jean became an officially married couple.
During their time as a happily married couple, Michael had twin daughters near the end of 2004 with Muggli. The twin daughters' happened to be Isabella Strahan and Sophia Strahan.
Michael Strahan Second Divorce
Sadly enough, Michael's second relationship also didn't work, and they split up after seven years of marriage. But the story doesn't finish there for the former Strahan couple and their children. Michael and his second ex-wife made a lot of headlines after the couple broke up.
After Michael and Jean's divorce, Jean demanded primary child custody with pay that amounts to $15.3 million and child support of $18k a month. Moreover, Jean got full ownership of their New Jersey house.
Unfortunately, in 2020, the tension rose between the former Strahan couple over the custody of their child. Michael accused Jean of abusing their daughters physically and mentally. Later, the case came into a mutual agreement between them. However, Michael was still pushing for primary child custody, which Jean currently had.
Relationship Controversies
After Michaels' divorce from Jean, certain revelations came up concerning his sexuality. Jean stated that he had a homosexual relationship with Ian Smith, a television star like Michael. Jean claims that the two were living in a one-bedroom flat. But the claims lacked elaboration and evidence and was nothing but a private quarrel between them. Furthermore, those claims were denied by both Smith and Michael publicly announcing that Smith just wanted to give him a place to stay.
While Jean attacked Michael with false accusations, she got into controversies herself when she abused Strahan's ex-girlfriend Marianne Ayer. Jean is now seen as a criminal and is currently behind jail cells after harassing Ayer. Ayer accused Jean of using order of protection and aggressive touching. She even claims that Jean abused her pet dog physically. Nonetheless, if Michael's first married life was anything but ugly, his second divorce was just the opposite.
Years later, Michael was engaged for an extended period with Nicole Mitchell. Nicole is a famous American model and a famous actor Eddie Murphy's ex-wife. Nicole and Michael had an engagement ceremony held in 2009. However, they had a controversial end to their relationship after four years when Nicole got suspicious of Strahan's behavior. Moreover, Nicole claims she saw Michael staying with a stranger woman at Beverly Wilshire Hotel. After that, Michael and Nicole's relationship was no longer the same, but they remain good friends.
Is Michael Strahan Married Now?
Nonetheless, Michael's record with his exes has been theatrical and controversial. Usually, people would've to stop finding another love after having two divorces and four children. But Michael never gave up and still insists on dating new ones.
Stefani Vara
Before dating Nicole, Michael had a short-lived relationship with Stefani Vara. Stefani Vara is famous for being an influencer, model, and singer. During 2006 and 2007, Stefani and Michael appeared a lot together. One such instance was when the two appeared at Maxim's Pre-Super Bowl XLI Party held in Florida in February 2007.
However, Michael and Stefani were good at hiding their relationship, so not much is disclosed about their relationship. Stefani made the list of 2015 Latina of Influence for her recorded songs and albums.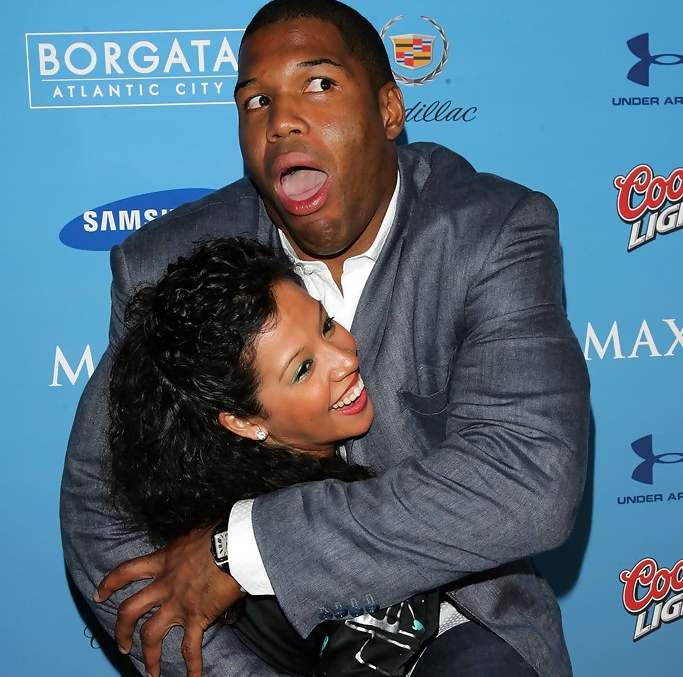 Marianna Hewitt Ayer
In October 2014, Michael locked hearts with Marianna for a short period. Marianna is a regular citizen until she rose to fame thanks to Michael and his ex-wife. Ever since Michael's ex-wife made a scene with Marianna, she has been in the headlines. Reports claim that Marianna Ayer is a blogger and makeup artist. Marianna and Michael often appeared together on few occasions, like leaving the car together or at a hotel. However, the reason for their splitting is still kept in the dark.
Kayla Quick
After Marianna, Michael's latest girlfriend is Kayla Quick. Soon after parting ways with Marianna, Michael and Kayla were seen dating in 2015. Moreover, Kayla and Michael are still dating in 2021 despite knowing that Kayla was prone to numerous controversies in the past.
This former waitress had already gone to jail twice during her teenage days. Kayla Quick was a culprit of out-of-law conduct and theft involvement. Moreover, her college ex-boyfriend says that she used to be a stripper during their relationship.
Regardless, it was love that attracted Michael to Kayla. Sources claim Kayla and Michael met at a bar near Port Charlotte, the same restaurant where Kayla was working as a waitress. Since then, Kayla and Michael began their relationship, having dated numerous times.
The first time Kayla and Michael appeared together in public was at the 2015 Super Bowl party. Fans of this prominent sportscaster immediately noticed this white woman, bringing Kayla to the limelight. Similarly, Kayla goes well with Michael's children. She once attended a game show with Michael and his twin daughters.
The only thing now remaining is for Michael to wed Kayla.