Daniel Levy is an American stand-up comedian and scriptwriter. The comedian started his career in the early 2000s when he was in college. The Emerson College had a drama/ improvisation group named Half Pint Players, which acted as a great base for Daniel to nurture his skills.
Recently in 2020, he started the series Indebted. The producer has also worked for many popular titles like The Awesomes. His most acclaimed work so far has to be the show Dan Levy: Lion in 2016. Prior to the show's launch, his best friend John Mulaney interviewed him on questions pertinent to the show.
Today, we discuss Daniel Levy's marriage, spouse, gay rumors, and his friend John Mulaney.
Is American Comedian Daniel Levy Gay?
Absolutely not. There is this huge confusion on the internet between two people bearing the same name. The Canadian actor 'Daniel Levy,' the lead starring member for Schitt's Creek, has the same name as the comedian. In 2018, the Canadian actor came out as gay. And for some reason, people are tying the comedian Daniel Levy with Gay rumors. Moreover, they suspect a relationship of the comedian with his best friend and fellow producer John Mulaney.
The American comedian, Daniel Levy is straight. In addition, he is a dad to two children. The comedian is very realistic with his humor and draws inspirations out of everyday things, almost effortlessly. Once, when none of Daniel's shows had been nominated for the Golden Globe Awards, he and a fellow producer sneaked into the event venue fully dressed up. However, the duo took almost four hours to get past them due to security and hanged out at Starbucks while they waited. He shared all the happening in a true comedian style.
The producer is very active on Instagram and frequently posts images of him and the family. His cute kindergartener daughter is the highlight of his wall. Dan has 20k followers on Instagram in 2021. Moreover, the pop icon John Mayer follows the producer, and that caught our attention.
Is Daniel Levy Married to Wife/Partner?
Daniel married his wife in 2010. His wife, Rachel Specter, is an equally successful writer, producer, and actress. Guess the duo took the quote 'Birds of a feather flock together' too seriously. Together with Rachel, Dan is the parent of one son and a baby daughter. They go by the names Abe for son and Romy for daughter.
Rachel was born in 1980, which makes her a year older than her spouse. To talk about her career, she is in the industry since early 2000. In 2015, Rachel scripted and produced the hit series Crazy Ex-Girlfriend. The show aired for four years before she moved on to a new venture. Together with her husband, Rachel produced the series Indebted in 2020. The duo shares a lovely relationship, and they have been far from controversies to date. However, this does not include the occasional gay rumors that people on the internet throw at her straight husband time and again.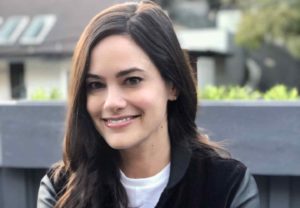 Has Daniel Levy Married John Mulaney?
Okay, where do people come up with these weird phrases? And why would Daniel Levy, in his right mind, marry his best friend John Mulaney when both of them have lovely wives. John is getting a divorce, but on that, later.
John Mulaney is a popular actor and producer. The actor is much more renowned than his friend, with 2 million followers on his Instagram account. In 2014, John married Anna Marie Tendler. And it was the comedian Dan Levy who officiated their wedding. So why did John turn to his best friend rather than getting a pastor like the normal ones?
According to our reports, John is from a Catholic family, whereas his spouse is a Jew. Now, to respect both their backgrounds, Mulaney decided to take religion out of the equation in their wedding. As a result, Daniel Levy became a marriage officiant for the day.